I have a few fun things to share this week from my inspiration file. I really love collecting great ideas from around blogland and these ones aren't going to disappoint!
First up, Cindy from
Cameras and Chaos
is brilliant. She was in need of a cute camera bag that didn't scream "Look at me, I'm a camera bag!" Funny thing is, I'm in the same need. She didn't want to pay hundreds of dollars for one (and neither do I) so she found a sturdy purse and made all the innards that a camera bag needs. I'm so excited... I get to go purse shopping!
Then
My Blessed Life
made the cutest spring banner! I love banners (you may have noticed) and I think this one is adorable. I love the bright colors and the unique use of the paper fans. What a fun banner idea! (This idea would be equally adorable for a party!)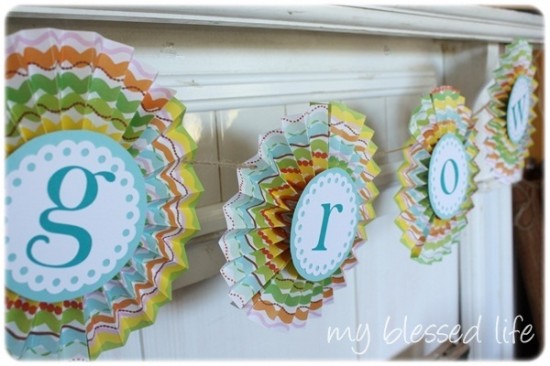 And speaking of cute banners, did you see the pinwheel garland from
Peppermint Plum
? Adorable! I love everything about this. The cute little buttons in the center, the cheerful colors and patterns from the paper, and the fact that they are pinwheels is just icing on the cake. Too cute for words!
What fun ideas! Thanks for the inspiration ladies! Feel free to grab a button from the sidebar if you'd like.
Don't forget to enter my 500 followers celebratory
giveaway
, and remember that tonight at midnight is the deadline to link up to the
Wood you like to craft? party
. I sure hope to see you there!